ATTENTION: This article is currently undergoing major renovation, as a result of the new publications released in the Little Army Series. Please refrain from editing, and list any new information you might have in the comments or talk section for now. -TTG
As a child she attended elementary school and formed a Panzer IV team with Miho Nishizumi, Emi Nakasuga and Chihiro Yusa. As a high schooler she attended Bellwall Academy and became the co-commander of the unit, alongside Emi.
Profile
Hitomi Yuzumoto grew up in Kumamoto City, in the prefecture of Kumamoto. She attended a nearby elementary school, where she would have a fateful encounter with three individuals.
Background
Appearance
Personality
Relationships
Trivia
Referred to as Tank Geek by Kanako Kashiwaba.
Gallery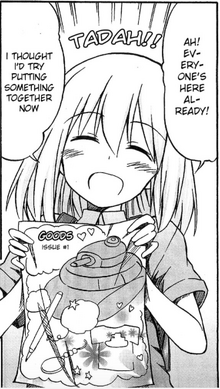 See also
Ad blocker interference detected!
Wikia is a free-to-use site that makes money from advertising. We have a modified experience for viewers using ad blockers

Wikia is not accessible if you've made further modifications. Remove the custom ad blocker rule(s) and the page will load as expected.